BUSINESS
MODEL
Our business model is to develop solar assets from the ground up and capitalize on the demand for fully developed production licenses globally.

Elumis can achieve this through close collaboration with governments, authorities and officials in countries with a need to expand their energy production and/or minimize their carbon footprint.

Elumis' extensive experience in permitting and development, in combination with its financial asset management expertise and technical and engineering knowhow, provide superior risk adjusted returns in such ventures.

Our focus will be to secure the land on which the solar parks will be built on, fully permit these parks and enter into PPAs for the sale of electricity produced, with credit worthy off-takers such as corporations, municipalities, utility companies or Governmental Agencies.
ELUMIS'
APPROACH
We plan on developing over 3,000 MWs of solar projects throughout various developing solar markets. We target international markets that are in their infancy of solar development. Elumis offers a combination of fees and a small equity stake in each project to their partnering local developers in order to incentivize them to develop and source projects with a high potential of realization.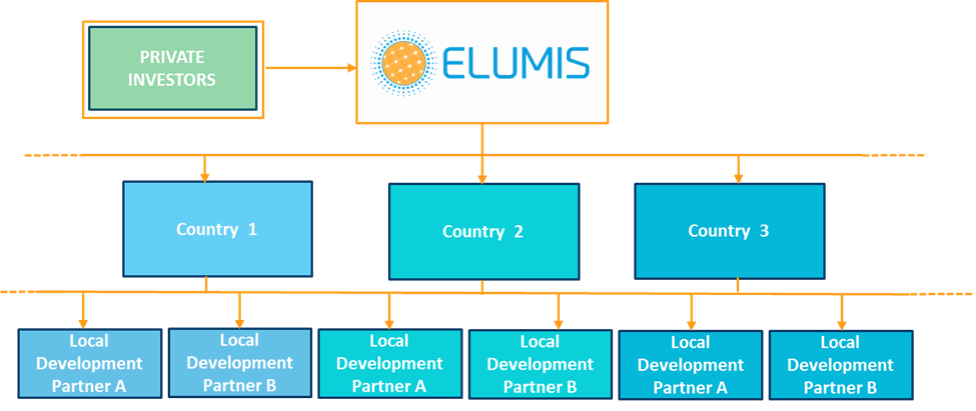 Capital
Raise
Elumis is seeking to raise $20,000,000 in exchange for an equity stake in order secure and close out Elumis' existing pipeline. We will use the capital to bring the full pipeline to an NTP status and at the same time establish a versatile and experienced management team to successfully develop these projects, promote and manage growth and focus on expanding the current portfolio. We believe the raise will give us sufficient capital to maximize our potential and project pipeline within the next 3 years and thus maximize investor's returns.